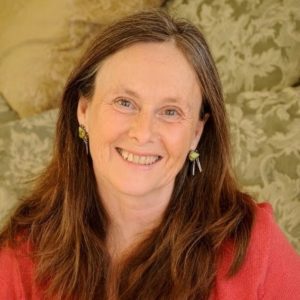 The Richmond IONS January Meeting, and Central VA IONS Community Group Meeting will feature a talk by Flo Aeveia Magdalena.
NEW LOCATION!
Where: St. Mary's Episcopal Church, New Parish Hall, 12291 River Road, Richmond, VA 23238.
When: Saturday, January 19, 2019, 10:00 a.m. to 12:00 noon, followed by a potluck lunch at the conclusion of the program.
Richmond IONS January Meeting Program:
"The Light of Our Origin."
The program at our Richmond IONS January Meeting, on Saturday, January 19, will be our 23rd Anniversary Celebration. It will feature a talk by Flo Aeveia Magdalena, Vermont-based author, healer, channel, teacher and spiritual coach.
Flo began her professional life as an RN in the 1970s, with specialties in both critical care and psychiatric nursing. She was always a spiritual seeker and from early in her career undertook to combine metaphysics with nursing and medical care.
Then, a transcendent visionary encounter with Christ in 1989 gave her life a new dimension and trajectory. First she became a channel of the spirit of Mary Magdalene and then for other spirit beings as well.
From that experience, her first book emerged: I Remember Union: The Story of Mary Magdalena (1992). It is a first-person, first-hand account of Mary Magdalene's life and times and her relationship with Jesus, as told by Mary Magdalene herself.
Her next book was Sunlight On Water: A Manual For Soul-Full Living (1995). It was intended to connect its readers with the life designs they carry in their souls. Three additional books have appeared since then.
Mary Magdalene's Core Teachings
Flo's presentation will focus on the teachings of Mary Magdalene. They have informed her work throughout the last thirty years. Her presentation will also include a channeling from Mary Magdalene, whose presence brings with it the presence of light.
Mary's core teaching is that "our light is our strongest ally, our deepest resource, and our most unifying force."
Remembering that we are light positively affects our cells and our bodily systems. It also helps us find our place in the world, and helps restore our connections with our own divinity.
Opening pathways within us that Mary calls seeds of light, Mary's message to us will offer ways and means to expand and more fully integrate the brilliance of the light we each carry. Her message will open us to the vastness of who and what we truly are.
It would be hard to imagine a more fitting way to celebrate the 23rd Anniversary of our Richmond IONS Community Group and commence our 24th year than this program promises to provide. Our Richmond IONS January Meeting is a not-to-be-missed program for all who can attend. See you there!
About Flo Aeveia Magdalena, Our Richmond IONS January Meeting Presenter:
In her career as a Registered Nurse, Flo Aeveia Magdalena developed programs for using meditation and relaxation techniques to assist chronically ill psychiatric patients. She collaborated with the program director of the American Heart Association to develop AHA's first stress management program in 1981.
Flo was also a facilitator for the American Lung Association's Smoke Cessation clinics. She is the founder and Executive Director of Soul Support Systems (www.soulsupportsystems.org), a non-profit 501(c)(3) organization.  It offers programs designed to connect us with our soul, and catalyze our potential.
These programs are also designed to deepen our understanding of the connections between soul, mind and body. Flo has worked with individuals and groups throughout the world to help them connect with their soul essence and life purpose and to live to their highest potential.
Her other books include Honoring Your Child's Spirit (2008), Cynthia's Promise (2016) and  Hearts of the Village: You Have A Part to Play In The New Human Story (2017).
About Richmond IONS AKA Central VA IONS Community Group:
To find out more about Central VA IONS Community Group (Richmond IONS), please CLICK HERE.
About Our Richmond IONS Facebook Page:
Please also visit and "LIKE" our Richmond IONS Facebook page
Upcoming Richmond IONS Meetings:
Looking for our upcoming meetings?  Please CLICK HERE.
To be included in our mailing list, please click the "Contact" button at the top right of this page and send us a message.
Please share your thoughts and any feedback by leaving a comment below: