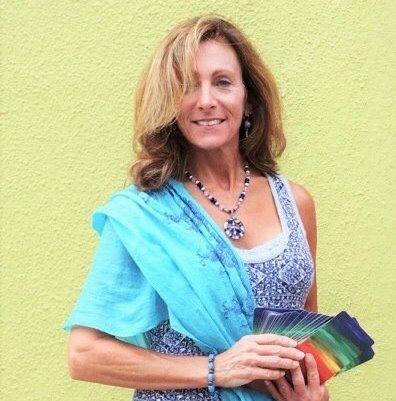 Richmond IONS March Meeting 2019 (March 16) and Central VA IONS Community Group Meeting, Featuring a Talk by Valerie Sargent.
Where: St. Mary's Episcopal Church, New Parish Hall, 12291 River Road, Richmond, VA 23238.
When: Saturday, March 16, 2019, 10:00 a.m. to 12:00 noon, followed by a potluck lunch at the conclusion of the program.
Richmond IONS March Meeting Program Title:
"Present Moment Guidance for the Life Experience You Desire."
Our Richmond IONS March Meeting, on March 16, 2019, will feature a talk by Valerie Sargent, Charlottesville-based hypnotherapist, Akashic records reader, Reiki Master, and intuitive healer and artist.
Valerie had a spiritual awakening at 25 when her first husband died in a car accident in March, 1987. She felt his soul pass through her the night of his death, and her father had a dream in which her husband told him that we have nothing to fear in death.
This changed the trajectory of Valerie's life and she began seeking, learning, assimilating and integrating everything she could about all things spiritual, including hypnotherapy and Akashic records reading.
"Akasha" derives from a Sanskrit word meaning primary substance, that from which all things are formed. Valerie is a pioneer in utilizing hypnosis as a tool for assisting clients to achieve more meaningful connections within the Akashic records, thereby extending the scope and depth of healing at the soul level, not just the ego level.
In addition to sharing her own spiritual journey, Valerie will explain how using hypnosis within the Akashic records offers a deeper and more expanded level of one's subconscious and one's soul history. The Akashic records, where memories of every experience are stored, are like a library where all the books are about you.
She will show how this combination increases the potential for freedom and relief from damaging, negative thought patterns and beliefs in ways that promote lasting healing.
Finally, Valerie will lead our group through an experiential hypnotic journey within the Akashic, with the intention of enhancing relaxation and healing, expanding awareness, and even tapping into a past life if we choose to do so. If journeying is of interest, don't miss our Richmond IONS March meeting!
About Valerie Sargent, Our Richmond IONS Presenter:
Valerie Sargent is a certified hypnotherapist, Akashic records reader, intuitive healer, artist and Certified Aroma
Freedom Technique practitioner. She has been practicing Reiki and other healing modalities for more than 20 years and has been working within the Akashic records for the last 10 years.
Valerie enjoys speaking and writing about energy healing and our expanding consciousness and has had articles published in local and national magazines. She is a member of The National Guild of Hypnotists and the Association for Research and Enlightenment. She paints Intuitive art and Soul Portraits, which are her interpretation of the energy of your unique soul.
Her mission is to help others help themselves by encouraging and fostering a deeper sense of self, and her deepest desire is to help others reconnect with their innate goodness within. For more information, please visit her website http://thefigleaf.net and her Facebook page, The Fig Leaf, Holistic Health and Wellness.
About Richmond IONS AKA Central VA IONS Community Group:
To find out more about Central VA IONS Community Group (Richmond IONS), please CLICK HERE.
About Our Richmond IONS Facebook Page:
Please also visit and "LIKE" our Richmond IONS Facebook page
Upcoming Richmond IONS Meetings:
Looking for our upcoming meetings?  Please CLICK HERE.
To be included in our mailing list, please click the "Contact" button at the top right of this page and send us a message.
Please share your thoughts and any feedback by leaving a comment below: